his week's alumni spotlight is Dennis Besteman '03. What was your best memory from school? Some of the best times were during shop classes, football and baseball practices/games, playing euchre and experiencing our progression from kindergarten to graduation. Our class was very inclusive of everyone. There were definitely friend groups but we all got along very well, that's the best to look back on. Senior celebration and our cruise we did for our class trip we're both top memories as well. What was your favorite class/activity? Favorite classes were Mrs. Spencer's French and Mrs. Ewing's Biology class. Both great teachers with a passion to make students better people. Favorite activity was weightlifting and football. What advice do you have for students? I have lots of advice for students. Work hard and have pride in your work. You appreciate what you have earned more than what you have been given. Avoid debt. Get outside-hike, hunt, fish, watch birds, watch the sunrise/sunset in as many different beautiful places as possible. It'll cleanse the soul. Take care of your body- stay active and eat healthy. Be cautious of most advice you're given. Lastly, those in leadership aren't always worthy to be followed. What did you do right out of high school, and what do you do now? The day after graduation I got a job at Lawlor's Body Shop. I attended LSSU for one year and then studied to be an X-ray Technologist in Missouri with Greg Ehle. In 2006 I was hired at McLaren Northern MI hospital and have worked there full time up until a couple years ago. I'm now part time at the hospital in the CT dept. and full time at Petoskey Surgeons assisting with peripheral vascular procedures.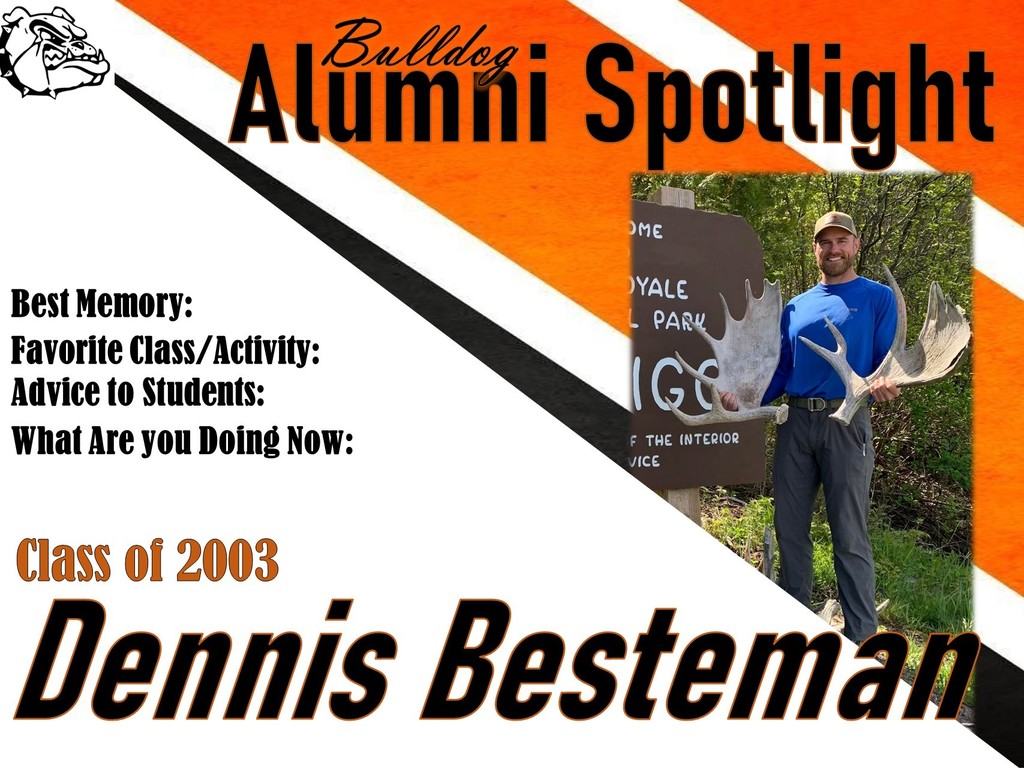 Bus 41 is running 20 minutes late this morning due to a mechanical issue. A new bus is in route to pick up the students.

The Week Ahead for 3/20-3/26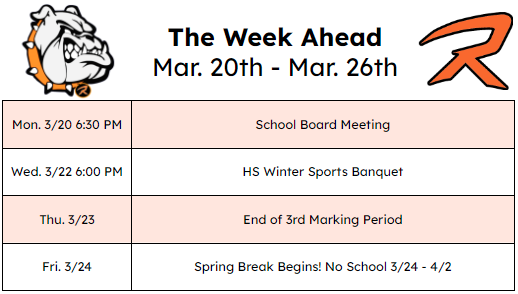 The weather outside is frightful, but the play is delightful! Two more chances to see it, including tonight at 7 PM in the Joe Rose Arena!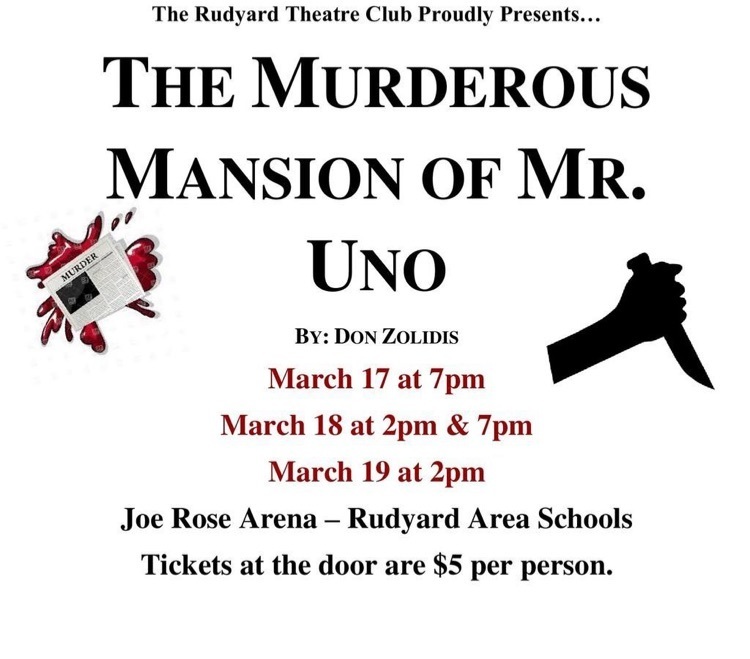 Today's alumni spotlight is Diane (Steikar) Harrington '85. What was your best memory from school? Best memories were being involved in sports/clubs, cheering on our 1982 state runner up football team and 1985 quarterfinal basketball team. What was your favorite class/activity? My favorite classes in high school were every business course I took from Mr. Cap Tromblay. What advice do you have for students? Get involved in sports, clubs, activities, take advantage of classes/opportunities that are available to help you learn skills and get ahead for your future. Remember that a college education is not the only measure of success for your future and always be proud of where you came from. What did you do right out of high school, and what do you do now? I attended Northern Michigan University eventually deciding to study business education. I retired after teaching 30 years —12 in Rudyard and 18 in the Sault. I still teach online for a virtual high school, work for a company training educators around the country, and work as the Player Services Coordinator for the Valspar Championship on the PGA Tour.
Due to staff shortage, Rudyard Area Schools will be closed tomorrow, Friday, March 17, 2023. If you would like to sign up to become a substitute teacher, contact the school. The school play is still on for 7 pm tomorrow night.

Don't forget the school play is this weekend! There are four chances to see it!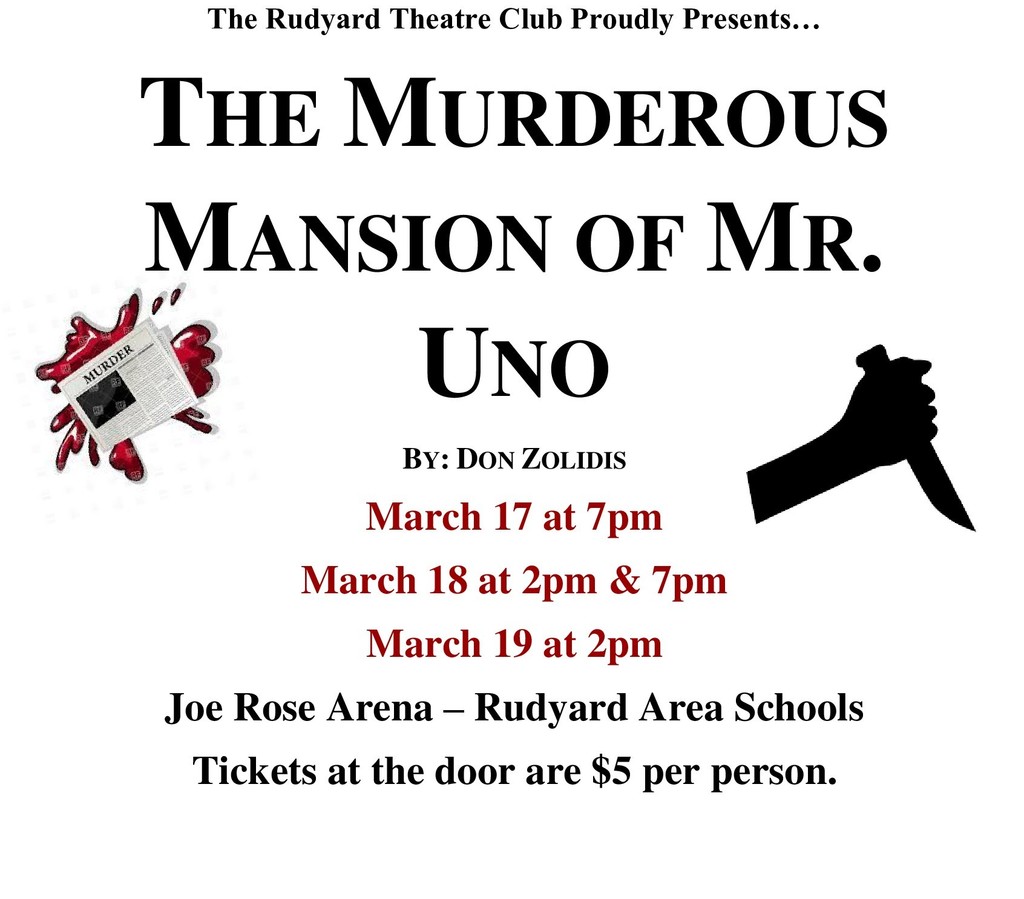 Congratulations to the following students we are now fully certified Red Cross Lifeguards! Elli Bogacki Jack Cifelli Seth Templeton Camron Willis Leah Beelen Ethan Hoolsema Xane Shimko Rudyard Jr/Sr High is proud to be the only school in the EUP to offer a full certification class for lifeguard training for free for its students.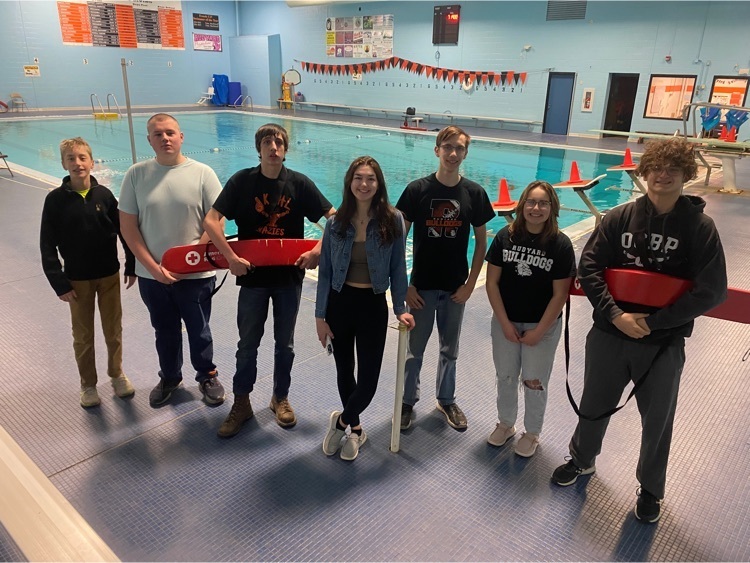 Fan Bus (3/13) from Manistique return time is approximately 9:15 PM.


It is time to get ready for kindergarten! All future kindergarten students who will be 5 years old by September 1st, along with their parents, are invited to join us for a kindergarten adventure at Rudyard Elementary! Every student who registers on April 5th will receive a t-shirt, a Bulldog bag filled with school readiness activities, and a chance to win many other prizes! Students and parents will go on an adventure throughout the school to collect stamps to fill their passport book at each activity they do. There will be prizes at every activity and each stamp you earn will get you a ticket to win even more prizes! Parents will earn tickets for parent prizes at each parent station they visit, including a chance to win a $50 gas card! Pizza and refreshments will be provided for all who attend. There will be bussing provided from the Kinross Rec Center at 4:30 to transport kindergarten students and their parents. We ask that you attempt to leave siblings at home as we want this experience to be all about your future kindergartner! Get ready, your kindergarten adventure begins here and we can't wait to see you! For more information on what Rudyard Elementary has for you check out our website:
https://www.rudyardbulldogs.org/page/kindergarten-signup

Good Luck Tonight to the Varsity Boys Basketball Team! GoFan.co says the game starts at 7 PM, it actually starts at 6 PM, please spread the word.

The Week Ahead for March 13th-19th...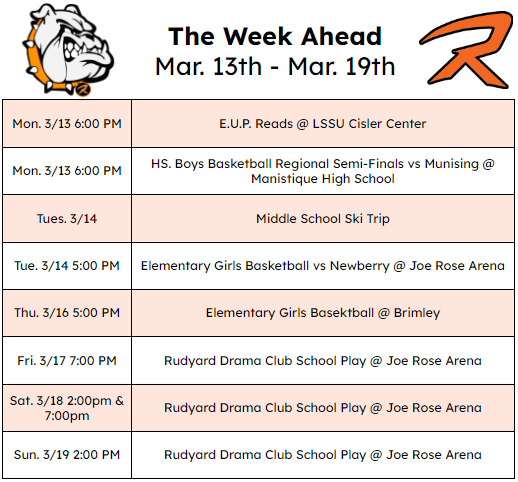 Regional Semi-Final Information Rudyard vs. Munising in Manistique: Ticket Information:
https://gofan.co/app/events/930420?schoolId=MI10368
Fan Bus Info: There is a potential student Fan Bus for the game, the bus would leave at 4:30 PM, cost for students will be $15 and that includes your ticket. At least 30 students will need to sign up by Noon on Monday (3/13). Sign up sheet will be in the office Monday Morning. Students in grades 9-12 will be given priority, if room 8th grade, then 7th grade will be given the opportunity. Students are encouraged to bring money for concessions at the game, the bus will not be stopping on the return trip. Monday - Orange and Black Day in Support, all staff, students and community members are encouraged to wear Orange and Black on Monday!

Today's Alumni Spotlight is Tim Ehle '99. What was your best memory from school? Best memory from high school is playing baseball with the comrade of the team. Ron and Pat Vansloten along with Jim Myers made it a great experience. What was your favorite class/activity? Favorite class was any science class taught by Patty Ewing. She was a big reason I ended up going into Biology followed by Medicine. Special shout out to Stan "the man" Powers who made physics fun. What advice do you have for students? Be kind to your peers. High school can be tough for individuals from with a disability or from a disadvantaged and/or non traditional background. Befriending and giving these individuals grace will benefit you in your life because outside of the relatively safe confines of the EUP, Michigan and our country is not a homogeneous population that may think and look like you. What did you do right out of high school, and what do you do now? Immediately out of high school I went to Central Michigan University for an awesome four years. Go Chips! I then went to medical school at Michigan State University. Go Green! Following the 4 years of med school, I spent the next 6 years at Mayo Clinic specializing in Internal Medicine, Pulmonology, and Critical care medicine. I have been practicing in pulmonary and critical care for about 10 years, currently in St. Cloud Minnesota where I reside with my wife and 4 kids.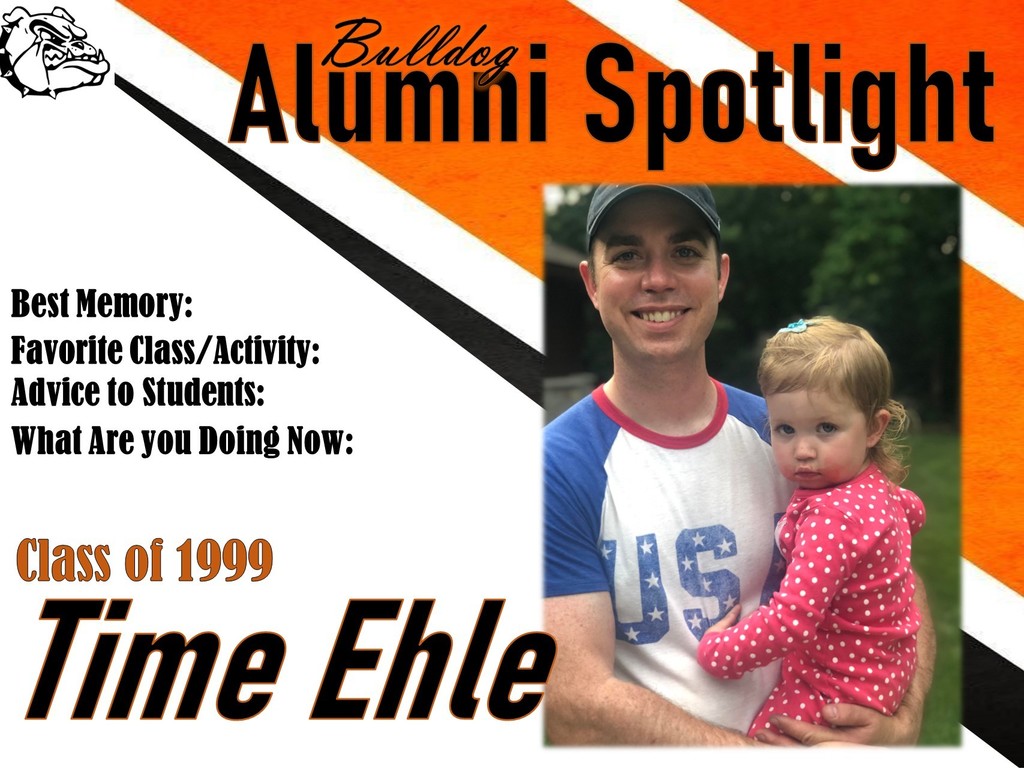 Congratulations to our Varsity Boys Basketball Team for their District Championship! Keep it going!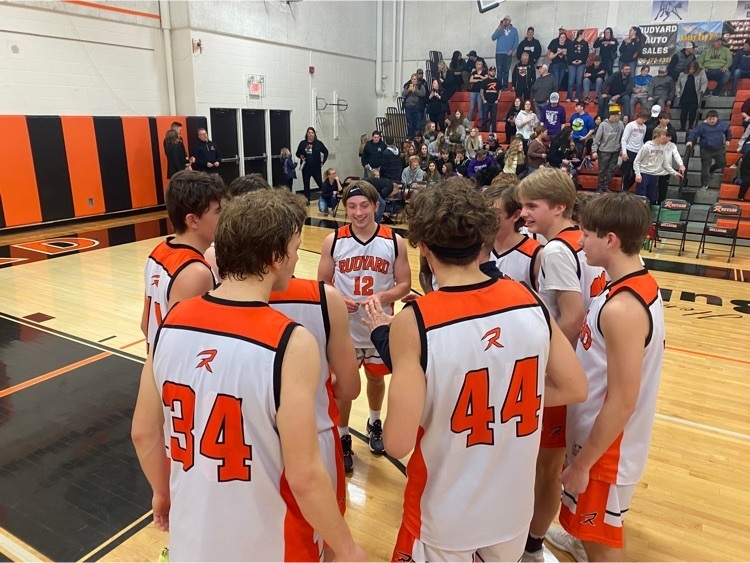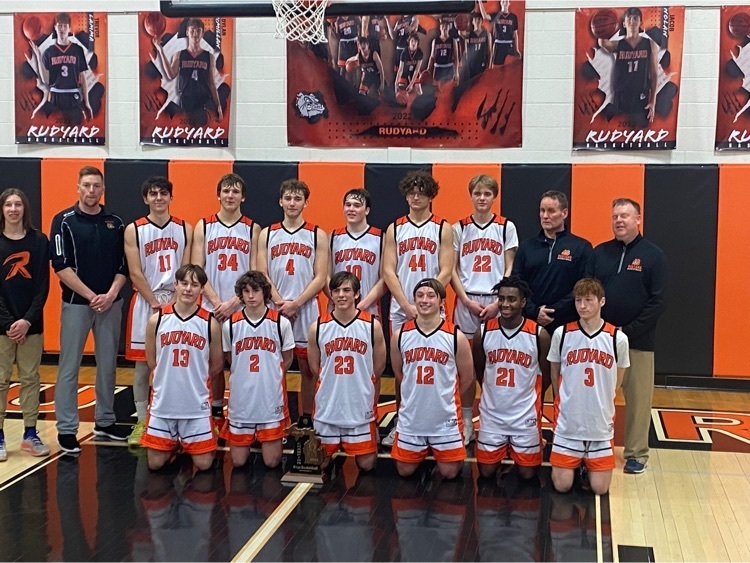 Don't forget we also have a Digital School Spirit Wear that everyone can access. The nice part about the site is that they ship directly to your homes. Check it out at:
https://www.rudyardspiritwear.com/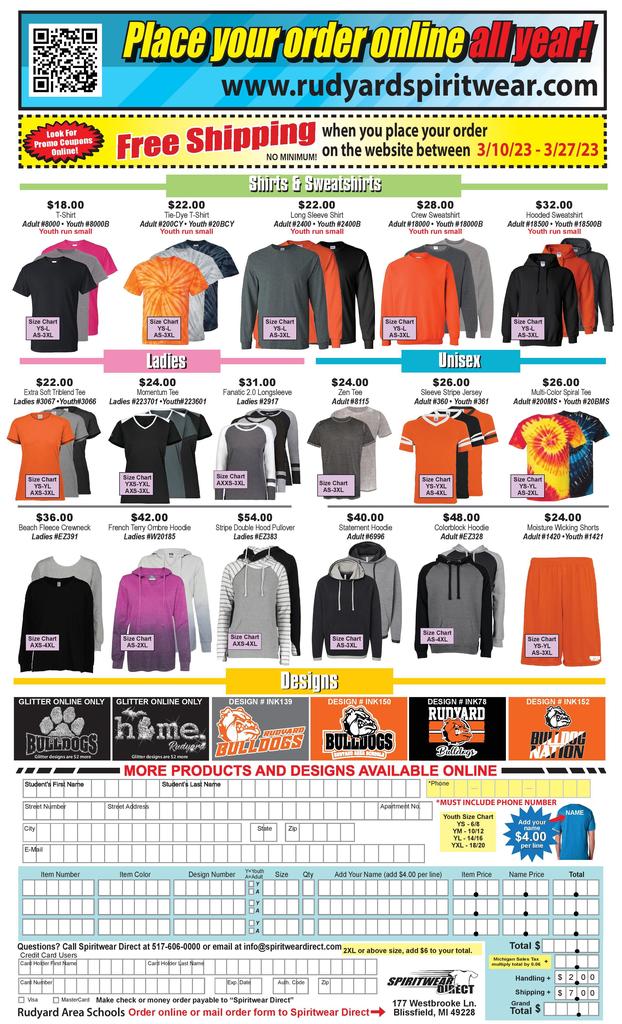 Don't forget Tonight! The Rudyard Bible Church will be hosting a Wild Game Dinner at the Rudyard TWP Hall on March 10 at 6:00 PM. Proceeds go toward the school kids closet.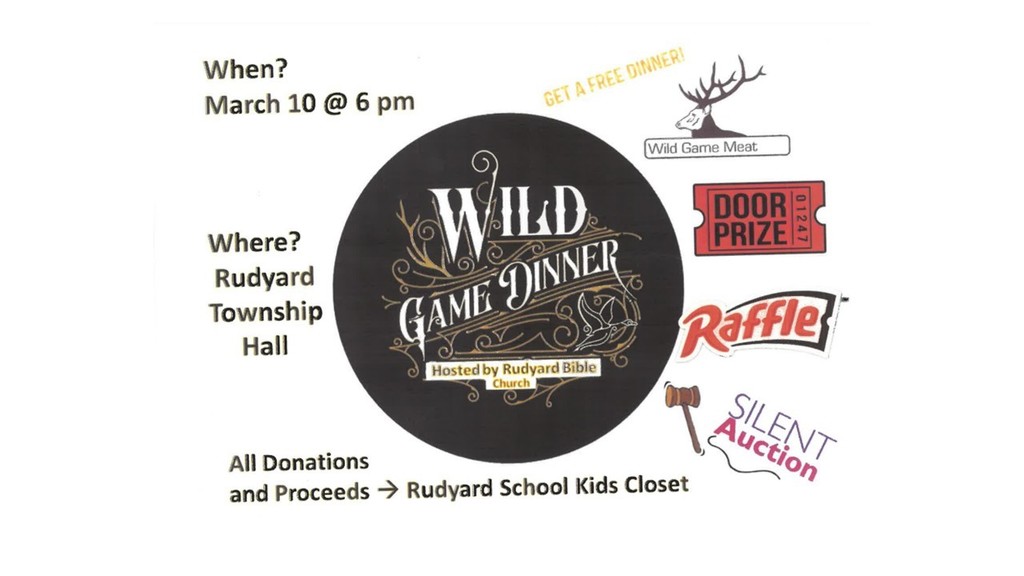 The Boy's Basketball District Finals Game will be 3/10 (Friday), at 6 PM against Pickford. We encourage all students, staff and community members to dress in black in support of the bulldogs! Tickets will need to be purchased on GoFan.co as this is a MHSAA requirement.
https://gofan.co/app/events/930214?schoolId=MI10368