This week's alumni spotlight is Grant Ross '79. What was your best memory from school? Some of my favorite memories at school were playing football for Coach Bickle and Coach Gough. What was your favorite class/activity? I love basketball and back in school it was my favorite thing to do while at school. Its one of the main reasons that I went on to coach at the school for a long time. What advice do you have for students? Do well in your academics, its huge. Fine ways to challenge yourself as it opens or keeps doors open for you in your future. What did you do right out of high school, and what do you do now? Right after high school I started working construction and started my own company with my cousin. After two year of doing that we were able to buy Aho Lumber in Rudyard and turned it into Whiskey River Construction and Do-it Center.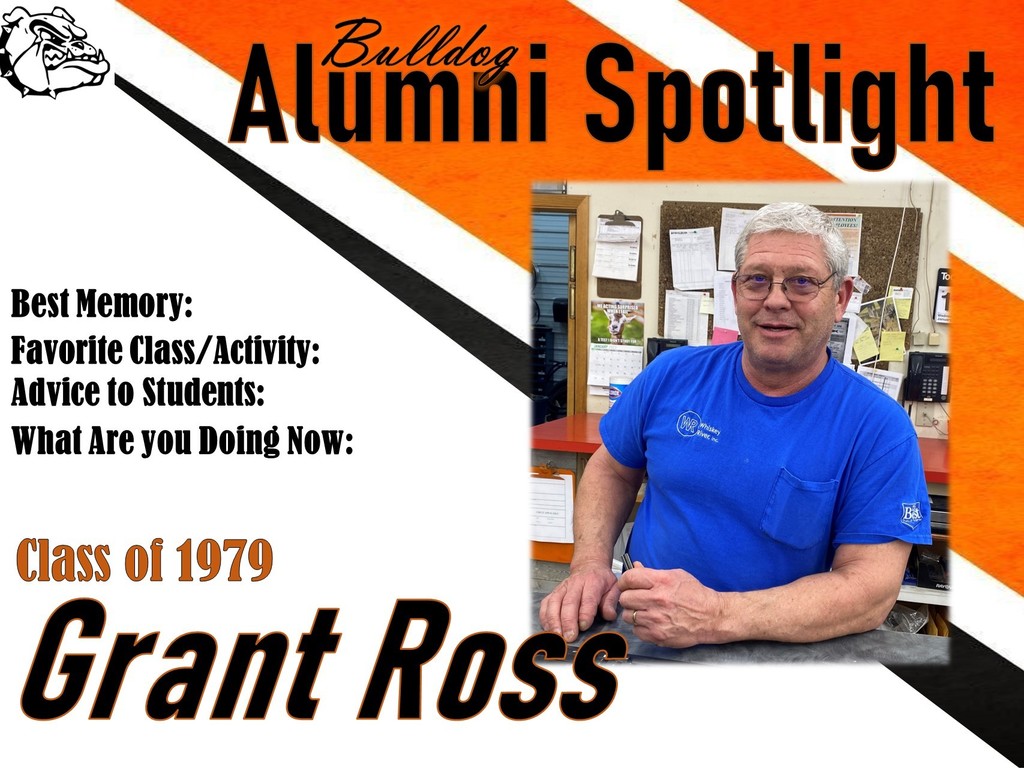 Rudyard Area Schools will be closed Friday, February 3 due to the projected extreme low temperatures, wind, and poor visibility. We hope everyone has a great, safe weekend. All after school extracurriculars will be decided later tomorrow afternoon.

Tonight's (2/2) Girls Varsity game vs Engadine has been cancelled due to weather.

Update: The H.S. Boys Basketball game that was scheduled for January 27 in Newberry will now be played on Monday, February 06 in Newberry at 6:00p.m.

The Week Ahead 1/30-2/5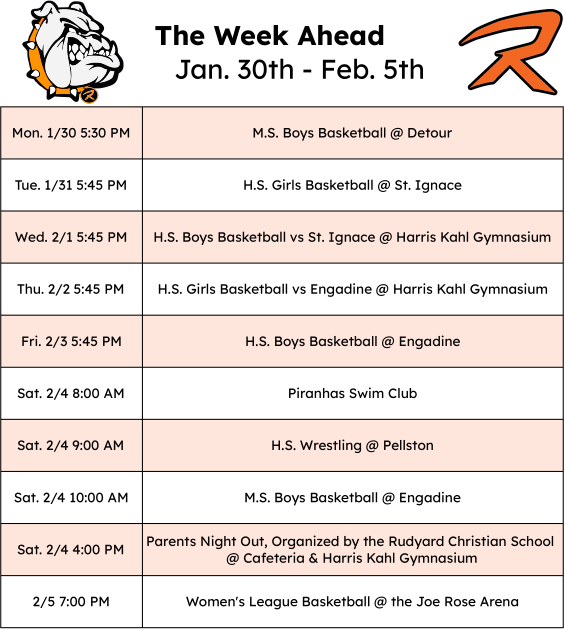 This week's alumni spotlight is Kurt Hauswirth '04. What was your best memory from school? My best memory from school was learning to sing out during a theatre audition. It was a big turning point in discovering what I was capable of and was the start of my passion for music. What was your favorite class/activity? My favorite class was choir with Mrs. Rathwell. She was always inspiring, would always take time to learn more about her students, and had us singing some great music together. What advice do you have for students? Make each day as helpful for others as you can. Understand that not everyone can bring 100% of themselves everyday (including ourselves); we need each other. What did you do right out of high school, and what do you do now? I worked a summer at a Burger King right after graduating, then went to NMU to study Music Education in the fall. Now, I work full time as a public radio host, programmer, and producer at Public Radio 90 in Marquette (NMU's public radio station!)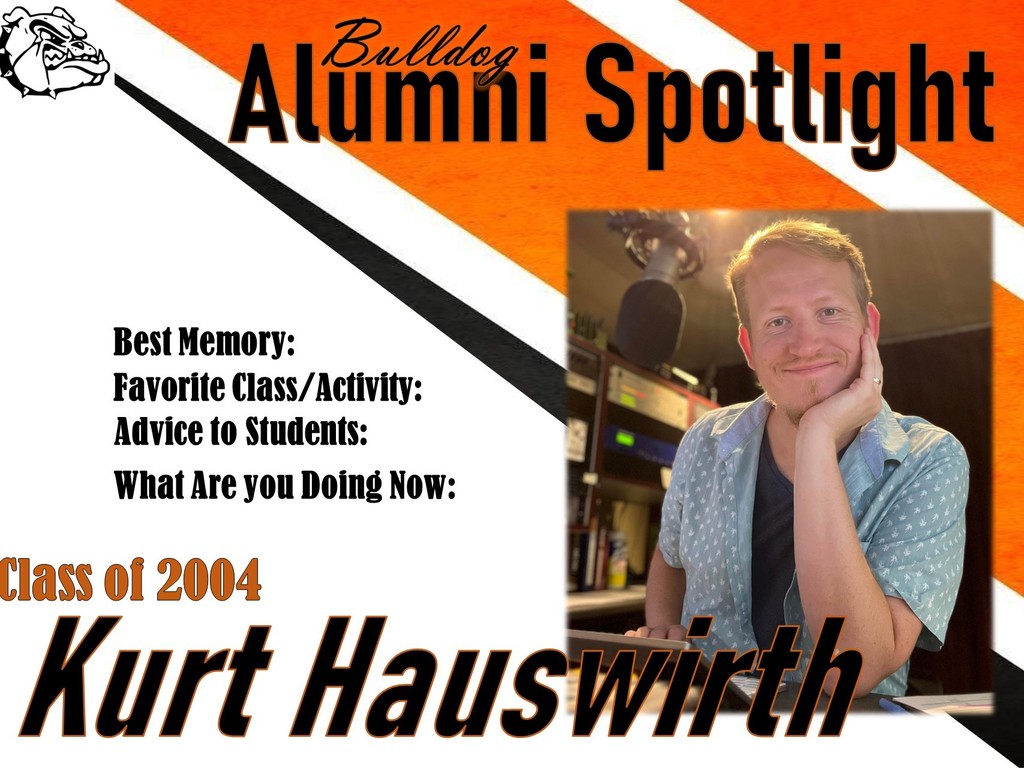 Rudyard Area Schools is proud to announce the top academic honors for the Class of 2023. This year the class Valedictorian is Miranda Allen and the Class Salutatorian is Summer Smith. Congratulations to both of ladies, they are wonderful students each with over a 4.0 GPA (with weighted classes). Additionally both students will be recognized as EUP Principal Award Recipients this spring at the Grand Hotel on Mackinac Island. Congratulations to again to both of you!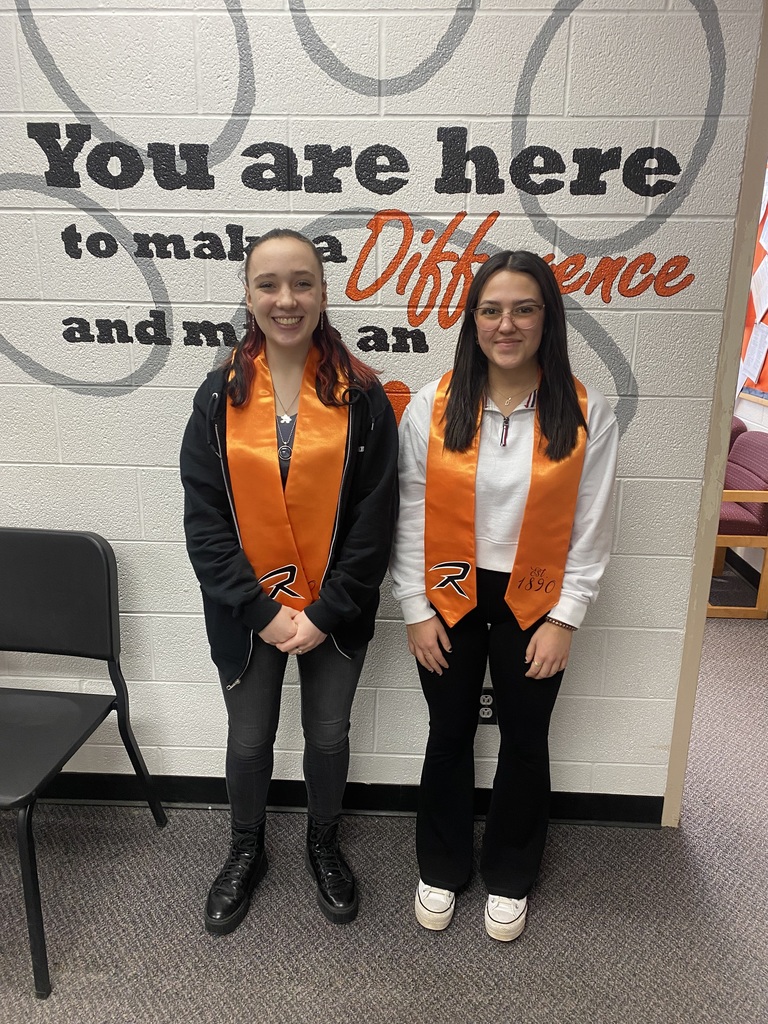 Tonight's Boys Basketball game in Newberry has been Canceled.

Congratulations goes out to Jeff Apotheker on being named a 2nd Quarter Student of the Month at the Sault Area Career Center. Jeff is able to attend the SACC for free including transportation thanks in part of the Regional CTE Millage. Keep up the great work Jeff and Keep Building!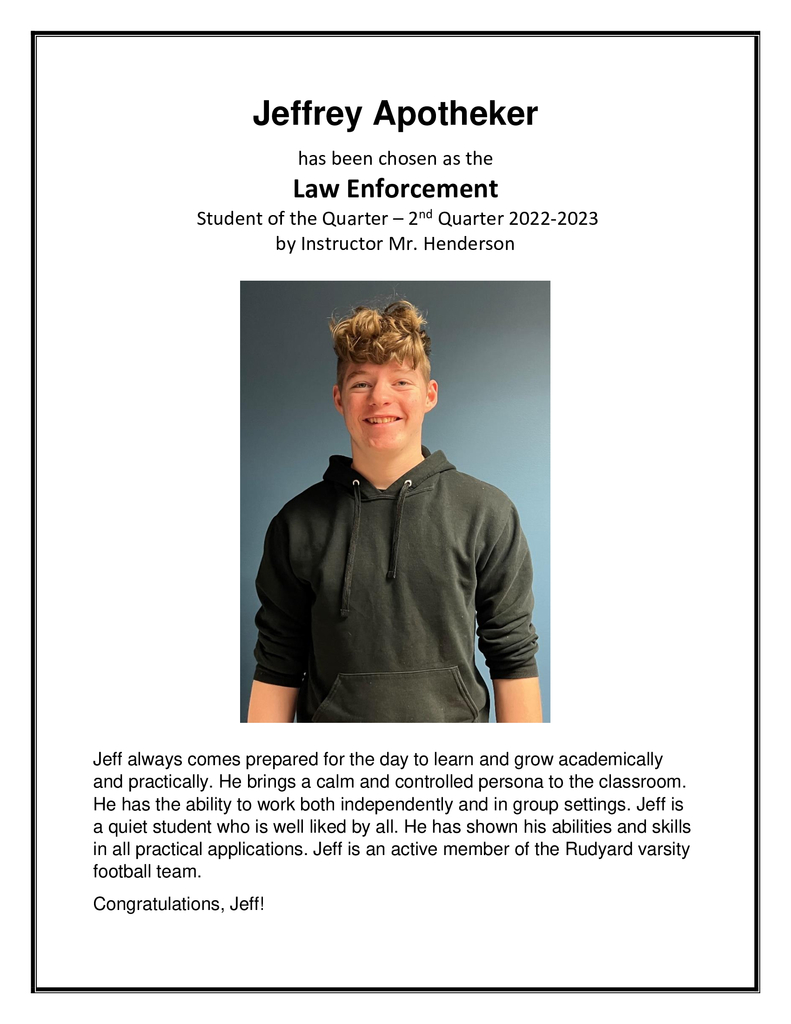 The Week Ahead 1/23-1/29

This week's alumni spotlight is Aimee Brown '92. What was your best memory from school? My greatest memories from high school are pep assemblies, dances, and basketball games. What was your favorite class/activity? Music.... In all forms. Chorus, chorale, concert band, jazz band & pep band. I was blessed with amazing music educators and it stays with me to this day. What advice do you have for students? Learn how to do something with your hands. Learn a skilled trade - even if it isn't your ultimate profession. There are many chapters to your life; knowing a specialized skill may help you through many of them. What did you do right out of high school, and what do you do now? My first job right out of high school was a cashier at Kmart in the Soo. Currently, I am Certified Master Kitchen and Bath Designer (CMKBD), one of only four in the state of Michigan. I design high-end kitchens and luxury bath spaces that people dream of. I truly love what I do!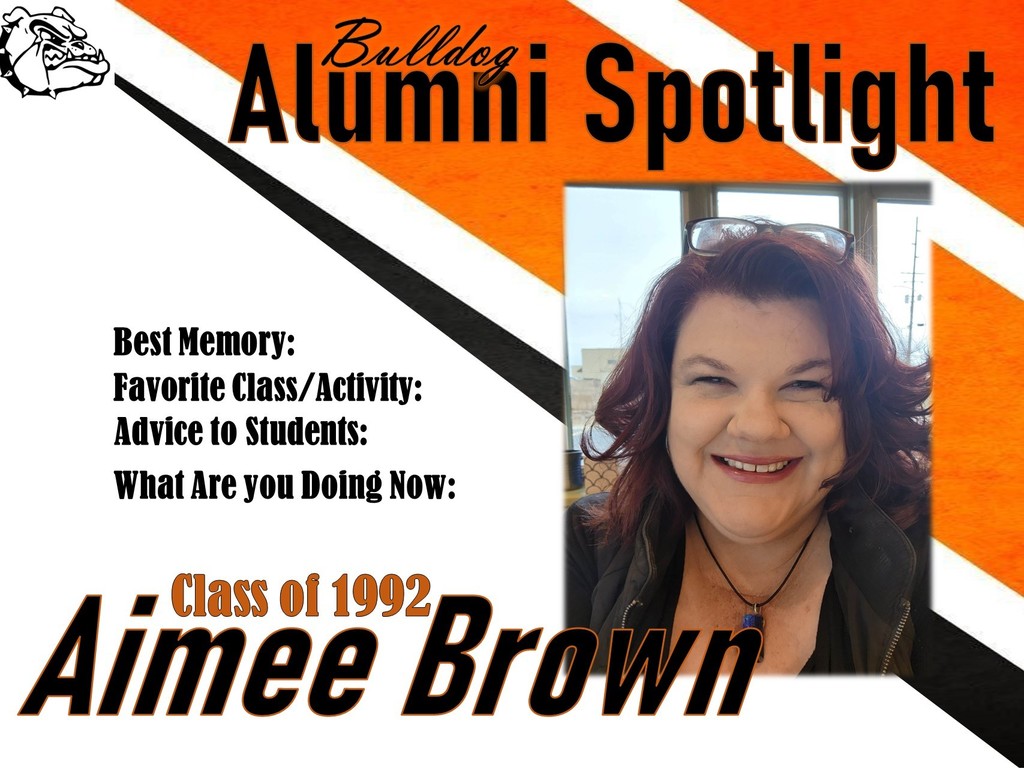 HS Boys and Girls Basketball games against Brimley have been canceled today (weather). Girls game will now be on Saturday (1/21/23), at home at 1 PM. Boys will play on Saturday in Brimley, time TBD.

The Swim Meet that was cancelled today January 19, has been rescheduled for Wednesday, January 25th vs Manistique and the Sault @ 5:00pm.

Tonight's (1/19/23) Home Swim Meet is cancelled due weather closures at the competing schools (Sault/Manistique).

Due to injuries at on the Rudyard Girls JV Basketball Team, we will be combining the JV and Varsity teams moving forward. Tonight's home game starts at 5:45 PM vs. Brimley (weather permitting).

Here is our adjusted High School Exam Schedule for 1/18/23 due to the 2 hour delay: 10:20-12:00 - 1st Hour Exam 12:00-12:30 - Lunch 12:34 - 1:26 - 6th Hour Class 1:30-3:18 - 2nd Hour Exam *Career Center Students will take their exam during the 2nd Hour Exam period in the Board Room at Rudyard (We have your exams)

We hope that everyone in Bulldog Country has enjoyed the Alumni Spotlights! Thank you to all of our volunteers who got the ball rolling! Now its your turn Bulldogs, if you have someone that you think would be a great person to spotlight, please message the school's Facebook page with your nominations, and how to best contact them.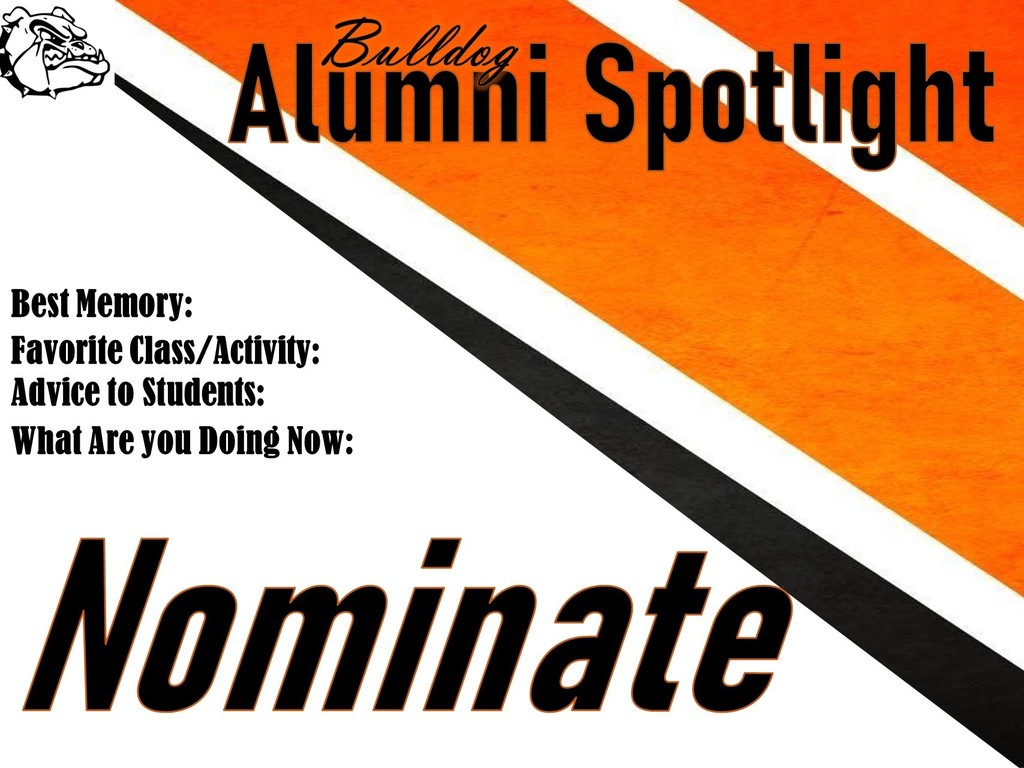 Bus 43 (Sully) is running 20 minutes behind).

The Week Ahead 1/16-1/22...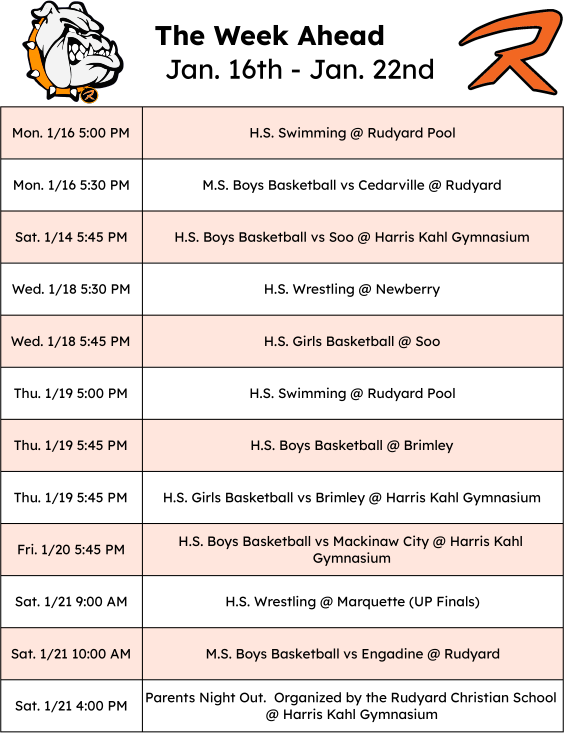 Today's Alumni Spotlight is Leah (Pierce) Mills '03 Best Memory: Favorite Class/Activity: I'm a giant nerd and my favorite memories from school include things like the bird watching trip with my fellow nerds in Mrs. Ewing's class, a yearbook camp with my classmate and co-head editor, and soup opera in Mr. Fountains class. However, my favorite memory was being a 6th grade camp counselor and the survival game that year! Advice to Students: Big advice is that everything is temporary. If you love school and your classmates, soak it up and enjoy your time. If you hate school, this is temporary, you'll find your place and your people in time. Be patient with yourself. Grades are important but don't ONLY do school work. Make time for friends and your family, for reading, or for yourself. Finish homework on Saturday and relax on Sunday. What are you doing now: Right out of high school, I went to college and made it one semester at the University of Michigan before transferring to Grand Valley. I worked my way through college as a waitress and graduated with my ticket to grad school, a BS in behavioral science. I didn't go to grad school and ended up working as support staff in special education. I went back to college in 2020 (prereqs in 2018). In Dec. 2021, I graduated again from GVSU with a bachelor's in nursing. I work as a bedside RN now.